We make a commitment to the integrity of our community and its collective governance.
Introduction to our Constitution and Bylaws
We, the members of Holy Angels Independent Catholic Church, are united in our mission: to invite all to experience and share God's love. As a faith community, we have adopted a Constitution and Bylaws to enable us to fulfill this mission by coming together to proclaim the Word, to celebrate the Sacraments, and to reach out to those in need.
As a legal entity Holy Angels Independent Catholic Church has clear definition: we are a non-profit religious organization incorporated in the state of California; our Articles of Incorporation have been filed with the state. As Church, however, we are more: we are a living fellowship in the Catholic tradition, ever growing and responding to the changing world around us and to the messianic call of the Holy Spirit. In our Constitution and Bylaws, therefore, when we define who we are, how we are structured, how we govern ourselves, and how we administer our parish, we do so as Church. Together we make a commitment to the integrity of our community and its collective governance. Within this founding document we are assertive in terms of definitions and mandates about organization and procedures and, yet, open to revision and change. We intend our foundational vision and values to inform the actions of all who assume responsibility within the parish, whether clergy or laity, but we do not attempt to outline prescriptively each of the many smaller steps necessary to good governance. The Constitution and Bylaws is a living document, one to be reviewed and amended over time by members in a spirit of faithful responsibility.
With gratitude we acknowledge the model provided us by the Constitution and Bylaws of our sister community Saints Clare and Francis Ecumenical Catholic Community in St. Louis, Missouri. We have adopted and revised their work to benefit the formation and aspirations of our parish. We have also drawn directly from the Constitution of the Ecumenical Catholic Communion, notably in the Affirmations of Faith and in our understanding of Church and its polity. We are deeply grateful to all who have gone before us and to those who continue to walk with us, as we seek renewing ways to be Catholic Christians in community.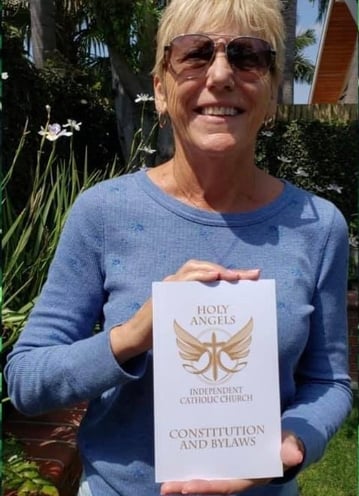 This Faith Community is incorporated under the laws of the State of California.